Is there a way to print the full details of the Transaction List tab from the Cash Register summary page, rather than what is just the financial summary at the top half of the page?
HIKE: In Reporting> Sales you have the option to print Sales summary or else you can also opt for Sales(Detailed) which can give you sales product wise for a particular period for a single outlet or even multiple outlets if you have them. 
BRIAN: Reporting> Sales only shows the Products sold. We also need Transactions (see screenshot Register-summary-transactions.png). When we print from that page, only the top half summary is printed.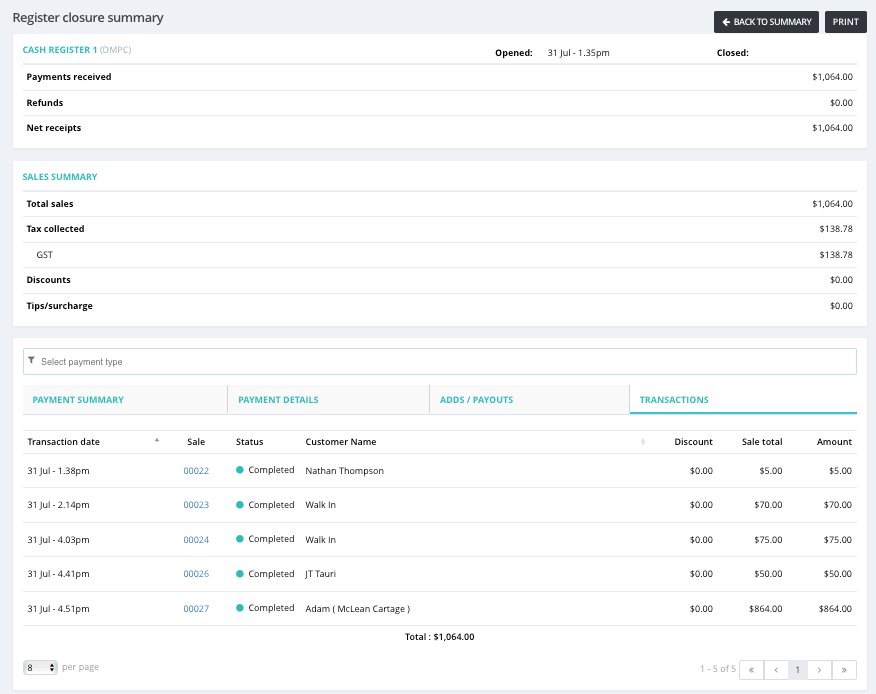 HIKE: It is not available in the current store to print transaction details showing under register summary. We have a custom report coming up very soon to live store and it would cover this requirements. Also, there will be an advanced report section will be added. 
Is it possible to define defaults for printing? For example, that Docket is always the default, even if the the most recent print was A4?
HIKE: If you are referring to print Invoices billed to customers, you can create a template in Store Setup>Receipts Templates. Once the template is saved, you will need to go to Store Setup>Outlets and Registers and click on the Register to open and select the template from the drop down and again save it. 
BRIAN: Yes, we understand the template. The question is about when we Print from the template. Can we define, for example, Docket as a style, which will always print two copies?
Is it possible to print just the Header information but not the Footer information on a Docket or Invoice?
HIKE: Headers are Footers will be printed together as there isn't any option to select any one as they both will be selected by one tick.
However, the customer header notes and also footer notes can be edited as per your requirement. It is available under Receipts Templates.
Is it possible to print from the Sales History page?
HIKE: Sales history print is not possible at the moment but you can use Reporting Sales which can give you different types of report. For Invoice wise payment, you can refer Reporting>Payments>Payment Transactions.
BRIAN: See also REPORTING above.
In the Customer record there is a "Customer Code" field at the top right of the page. It seems this does not print on Receipts and it would be very useful for us if it did. We currently use the field for the licence plate number of the customer's bike.
HIKE: At the moment, you can use Company name option to add licence number and it will print print your report once downloaded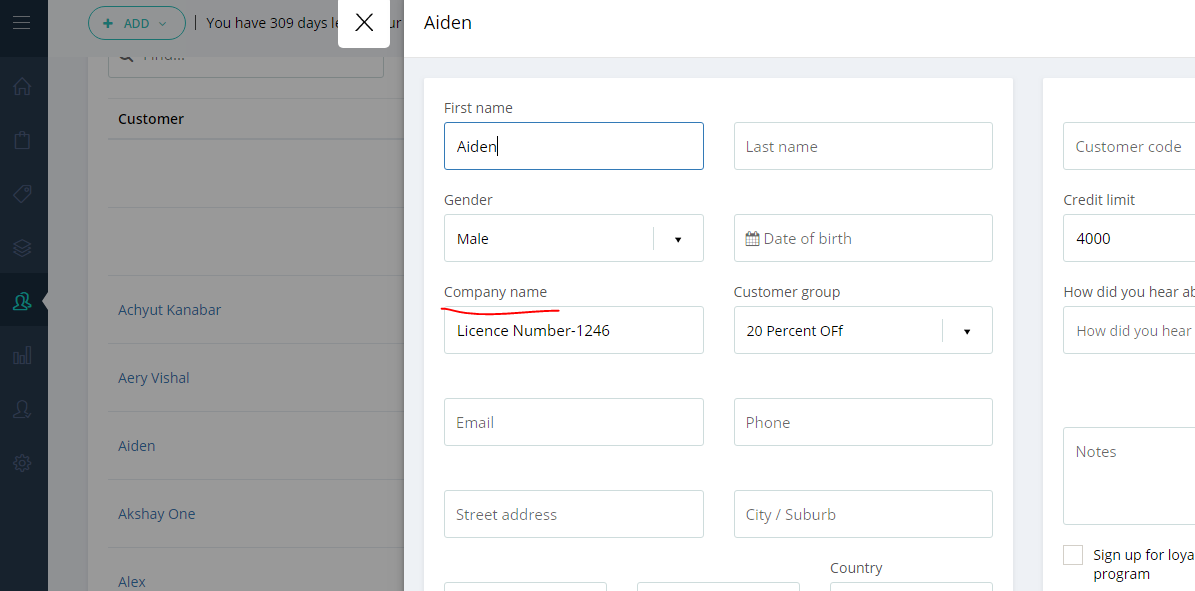 What you can do is as per the first note that you mentioned you can update there as parts to be ordered and when you are completing a sale, you can add Note of the actual work carried out or parts sold.
BRIAN: See item re NOTES below, as that option does not work.
Is it possible to have two Notes fields for a Sale? We have many Sales that are, in effect, a combination of Part-Sale, Parked-Sale, Completed-Sale.
BRIAN: So the first Notes field would be an overall description, and may often include information about Parts to be ordered. The second Notes field would be updates about the actual work carried out, or the Parts information update.
HIKE: There is one note filed while creating sales, however, If you go to sales history, you can select from drop down to show only parked sales
What you can do is as per the first note that you mentioned you can update there as parts to be ordered and when you are completing a sale, you can add note of the actual work carried out or parts sold.
BRIAN: That sounds like a possible option. Although in some cases we already use Company Name when people want to charge some of their invoices to a company rather than personal account.
HIKE: Okay! I have already taken this as a future feature request and forwarded it to the development team
There is one more option like as in you can enter the licence number in brackets for the customers who want to Invoice them under company name.
For example: Matt as a customer.
You can put the name as Matt(Licence number: 6468
BRIAN: This may work short-term, but means we would have to change every Customer record. 
However, Amanda says the fix for Notes has been completed:
.
HIKE: Hi Brain, regarding the order note disappearing, we have fixed above issue at our end, we will let you know once we fix this issue on live.
.
BRIAN: Therefore we would not want to change every Customer record if the fix for the Live system is only days away.
GLOBAL FIELDS SEARCHING AND PRINTING
Although we can define the names for some of the fields, there are a few fields lacking from the Customer record. Which fields from the Customer record will always display on the Receipt if they contain content?
HIKE: do you mean what will show for customer if you have the show customer address on receipt ticked? 
BRIAN: I understand about Address fields, but will any other ones show up? For example, the Customer Notes field?
HIKE: No customer note field will not show 
BRIAN: The difficulty we have is the Notes field on the Process Sale is very rudimentary. For example, it seems no line breaks are actioned, so various lines of instruction or explanation will all just run on.
BRIAN: Also, it seems the Customer Notes field is not searchable? is that correct? If not, can it become searchable?
HIKE: customer note can not be searched 
BRIAN: And could the Customer Notes field become showable on receipts?
HIKE: Not at the moment, what you can do is when process a sale, after select a customer in sale screen you can click and edit that customer so you can find the note, you can copy that customer note into the receipt note so it will print:
BRIAN: Thanks Amanda. That could work some of the time. But when there's a queue of customers, we need to be able to process sales quickly. Is it possible the Customer Note (or some other field) could become part of the Receipt printout? As part of a Hike update?
HIKE: I can not guarantee if we are going to release this feature but I can put a feature request for you. 
I know it's possible to Copy and Duplicate a Purchase Order. But even that process does not appear to let us edit the Supplier field. Is there a way to edit the Supplier Field if we have made an error on the original order?
HIKE: I checked again it is solved internally and will be cover once it is released, we will let you know once it is there. Thanks for your patience.
If tech are working on the Notes, is it possible to have line breaks and/or bullet points? Rather than all the lines/sentences running on?
HIKE: I can double check question 13 with our team for you as well. But I don't think it is covered in this fix, I will discuss with our team
Is it possible for the Price field to be printed at 2x or even 3x the other fields? Or are we able to design our own Label format?
BRIAN: We have a problem in the warehouse. Some items are high up on shelves. The Label settings are straight-forward. But the size of the Price is too small to see from the distance, and we often need to see and compare prices when selecting an item.
Next image upload shows the style used by the previous POS system. Both the product Name and Price were much larger, and very readable on high shelves.
.
HIKE: we recommend Dymo Labelwriter 450 with Hike and let me check with the relevant team if the same can be increased i.e. product name and price font.
.
HIKE UPDATE: I have got the update from the tech team: you cannot increase the font of the product and price for Barcode print label but the same we will try to customize in the next release.
We have seen an unusual change with the Barcodes for some items. Please see the following screenshots.
BRIAN: My guess is a setting needs changing, but not sure where to look. 06a looks "normal" but 06b and 06c look wrong.
HIKE: Can you please share the screenshot of the print setting page as shown in the below given screen shot:
.
BRIAN: You will also notice that the "normal" Barcode is numbers only. The long ones are alphanumeric. So I was wondering if that was a setting that is defined somewhere. That has changed?
HIKE: Yes for that we need to see the screenshot of the print setting page so that we can come to know.